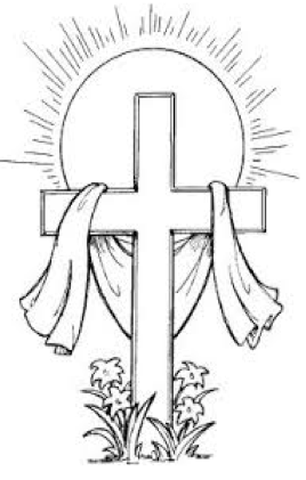 Hazelwell Weekly Contact

Easter Sunday 4th April 2021

Local Preacher Helen Woodall will lead Morning Worship In Church

(and on Zoom) at 10.00am

See attached order of service

(This service will not include communion)

Prayers are requested for

All who have been killed or injured as a result of the coup in Myanmar and those involved in efforts to restrain the excesses of those responsible

Moira and her family

All who are increasingly anxious as the Covid restrictions are lifted

Parish Update

We are pleased to announce the reopening of church for worship from this week - Easter Sunday onwards.

We will continue to follow Covid rules and will wear masks and observe social distancing before, during and after the service. Please help us to maintain these precautions.

Sunday 4th April Easter Sunday

Lay Preacher Helen Woodall will lead our service in church and on Zoom at 10.00am this Sunday

All Welcome - use link below

Topic: 10.00am Hazelwell Sunday Worship

Join Zoom Meeting

https://us02web.zoom.us/j/5429440666?pwd=ZWdld05LeTU3bjFVdkZZNkR3ZExhQT09

Meeting ID: 542 944 0666

Passcode: 9cUGo6

If you plan to join us in church, as we are still currently not allowed to sing during services, you may choose to bring some form of percussion - bells or shaker which can be incorporated into the chorus of the final hymn - "Thine Be The Glory"

Foodbank News

Spearhead Trust(c/o Fred Rattley) is still making Foodbank Collections and decided to carry on until lockdown finishes.

Food can be dropped off at Fred's Home, at 21 Livingstone Road, Kings Heath,

or Yvonne & David Swain, 25 Westminster Drive, Kings Heath, B14 6BG

Last WeekWe received in donations of 2035K and gave out 1921K ,1313K to109 clients and 608 to other foodbanks or similar.

Grateful thanks to those who organise street collections Ashmore Rd, Beaumont Rd, Cherrington RD, Featherstone Rd Franklin Rd Knighton Road Maryvale Rd , Selly Park , Teazel Avenue and Third Avenue which raised 831k

Urgently needed

Tooth paste, single or duo wrapped toothbrushes, washing up liquid (not family sized bottles), laundry liquid/powder (not family sized), potato smash, tinned fish (preferably other than tuna), tinned fruit in juice (not prunes or grapefruit), gender neutral shower gel, shampoo, roll-on deodorant, and disposable razor

Low in stock

Tinned meat (ham, corned beef, pork sandwich meat, pulled pork), ready made custard (tinned or carton - not powder), instant coffee (not decaffeinated), sugar 500g (not larger), tinned spaghetti, tinned rice pudding, jam/honey, snack bars/chocolate, crisps, packet noodles, liquid or bar soap, sanitary pads

Well stocked

UHT milks, long life fruit juice, squash, instant hot chocolate (not cocoa powder), baked beans, pasta sauce, pasta shaped, dry spaghetti, tinned macaroni cheese, rice, tinned potatoes, tinned vegetables, tinned tomatoes, tinned tuna, teabags (40's or 80's), biscuits, nappies all sizes, porridge, cereal, pet food, baby food and baby care items, toilet roll, carrier bags.

Not needed at all

Decaffeinated drinks or fruit infusions, bottled water, large bottles of lemonade or coke, any foods or toiletries containing alcohol, cooking ingredients or sauces, fresh products including vegetables, eggs and bread, non-diary items, gluten-free items, coffee beans, large boxes of teabags (120's or more), very large boxes of cereal of porridge, loose tea, cocoa powder, tampons, make up, hair accessories, perfume or after-shave

A meditation for Easter Sunday from Wycliffe College

Jesus was dead; no doubt about it. The political and religious authorities had issued his death warrant; professional military executioners carried out the order, and friends, family, and foes watch the gruesome scene in fascination and horror. After three exhilarating years of proclaiming God's coming kingdom…preaching, healing, and demonstrating the depths of sacrificial love, Jesus now hung on a cross while others picked up whatever pieces remained. A wealthy man named Joseph of Arimathea offered his own tomb; a clutch of loyal women made plans for Jesus' final burial rites; most of the others fled in fear and disillusionment. Yes, Jesus was dead.
Death is ugly, even so-called good deaths, wherein individuals lead good, long lives, demonstrating many of the cardinal virtues. No matter how much we sanitize death…even changing its very language, in which 'dying' becomes 'passing,' death is still the final enemy which none of us can ultimately dodge.

The faithful women made their way to Joseph's tomb, carrying spices and ointments to complete Jesus' embalming, having delayed for a day to observe the Sabbath. What awaited them completely contradicted their expectations. The now-open tomb was an empty tomb; how do you explain that? Confused, they were confronted by mysterious angel-like figures: He's not here; he's not even dead any longer; he is risen. Don't you remember? Piece by piece the picture slowly becomes clearer, although when the frightened disciples heard the women's testimony, they were uniformly sceptical, including the apostle Peter who explored the tomb for himself yet still wondered what had happened.

The journey from fear to faith is seldom straightforward. One or two steps forward…one or two steps backward. Slowly… gradually… baby steps stretching into confident strides, even then the possibility of stumbles and tumbles remain. How can we progress toward a vital faith that will sustain us along difficult paths? For sure we need to be grounded in the saving events of Easter. Jesus died – really, clinically died. Then he was alive again; people met him; Joseph got his tomb back. (Anybody want a gently-used grave?) And as the band of Jesus' followers gathered to tell and retell the gist of these astonishing events, and as they broke bread and shared the cup, a new movement was born, which, quickened by Holy Spirit, turned the world upside down. This Easter, as we ponder anew these saving events, let us celebrate and proclaim the heart of Christian faith and hope: The Lord is risen; He is risen indeed! And as God raised him from the dead, so will he raise us into his awesome presence!