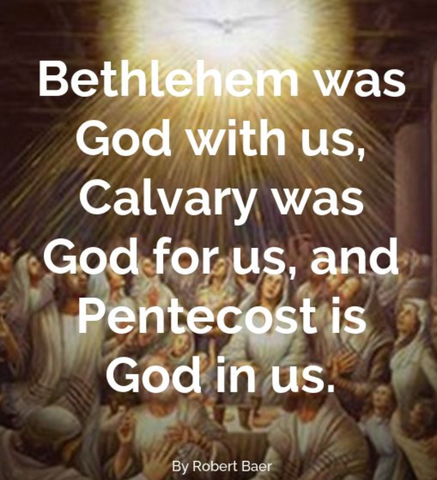 Hazelwell Weekly Contact
Trinity Sunday, 28th May 2021
Robert Matthews will lead a service of morning worship
In Church (and on Zoom) at 10.00am
Prayers are requested for
Moira and her family
All those affected by the cable car tragedy near Lake Maggiore, Italy.
Roman Protasevich who was removed from a Ryan Air flight forcibly re-routed to Belarus, his
friends and family and all who were affected by this incident.
The ongoing situation in Israel and Palestine.
Parish Update
Christian Aid
Many thanks to those who responded to our appeal for contributions to our Aid Christian appeal at the time of writing we raised a total £387, including tap simple, e-envelope and cheque donations.
Foodbank – B30 foodbank
Update 22nd May 2021
We received in donations 1475k and gave out 1847k to 159 clients on 82 vouchers
Urgently needed
instant coffee (not decaffeinated), tinned fish (preferably other than tuna), jam/honey, long-life fruit juice, gender neutral shampoo, roll-on deodorant and disposable razors, toothpaste, single or duo wrapped toothbrushes, washing up liquid (not family sized bottles)
Low in stock
Tinned meat (ham, corned beef, pork sandwich meat, pulled pork), ready-made custard (tinned or carton - not Powder), sugar (500g) (not larger), packet/pot noodles, potato smash, pasta sauces, tinned tomatoes, tinned rice pudding, tinned fruit in juice (not prunes or grapefruit), snack bars, chocolate, crisps, liquid or bar soap, laundry liquid/powder (not family sized)
Well stocked
UHT milks, squash, instant hot chocolate (not cocoa powder), baked beans, pasta shapes, dry spaghetti, tinned macaroni cheese, tinned spaghetti, rice, tinned potatoes, tinned vegetables, tinned tuna, teabags (40's or 80's), biscuits, nappies all sizes, porridge, cereal. Pet food, baby food and baby care items, gender neutral shower gel, toilet rolls, sanitary pads (not tampons), carrier bags.
Not needed at all
Decaffeinated drinks or fruit infusions, bottled water, large bottles of lemonade or coke, any foods or toiletries containing alcohol, cooking ingredients or sauces, fresh products including vegetables, eggs and bread, non-dairy items, gluten-free items, coffee beans, large boxes of teabags (120's or more), very large bags of cereal or porridge, loose tea, cocoa powder, tampons, make-up, hair accessories, perfume or after-shave.
Reflection for Trinity – Rev Lesley Taylor
Matthew 28: 16-20. In these verses, Jesus sends his disciples out in the name of the Father, Son and Holy Spirit…a form of words which we use to describe the Trinity… to describe God who is One in Three. And if you find the idea of the Trinity a hard one to grasp…just how can God be One and Three at the same time…don't worry.
It took the early church over 300 years to work it out in what we know as The Nicene Creed, which states that Jesus is "of one Being with the Father" and the Spirit "proceeds from the Father and the Son." One in Three.
That's the difficult bit for today. What I'd like to share with you now is one way of looking at the Trinity, which works for me. And it's based on the work of the theologian, Paul Fiddes.
So, I'd like you to picture three separate people. These people are now going to hold hands and form a circle.
It's difficult to tell where a circle begins and ends. As you look at the circle, it's not easy to tell where one person begins and ends in the circle. Three separate people become one in the circle. And the circle dances. So it is with the Trinity. God who is Father…God who is Son…God who is Holy Spirit…they hold hands together and they become one. One in Three. And, they, too, dance.
The Trinity dances together. As someone who loves dancing, I love that image. The Trinity dances together.
But, that's not all. This is not an exclusive dance for the Trinity alone.
As followers of God who comes to us in Jesus, we are caught up in the dance and we become part of it. We become part of the life of God, as he lives in us. And that's where our reading from Matthew comes in.
When Jesus sends his disciples out, he sends them out in the name of the Father and of the Son and of the Holy Spirit. He sends them out to be a part of the life and purpose of God…to be part of the divine dance.
How wonderful and awesome is that? The doctrine of the Trinity isn't easy to explain and I can't do it full justice in fewer that 500 words. But, don't forget, the Trinity isn't just a difficult idea…it's also the place where we dance with God. Amen.