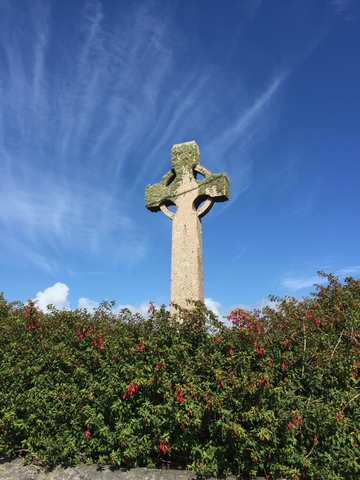 Hazelwell Weekly Contact
6th June 2021
Robert Morris will lead a service of morning worship
In Church (and on Zoom) at 10.00am
Prayers are requested for:-
Moira, who is suffering additional ongoing health problems and her family.
The ongoing situation in Israel and Palestine
Those living in Belarus who are suffering for expressing their views
Parish Update
Apologies to those who were unable to access last week's service on Zoom
The gremlins have been identified and sent packing!!!
Sunday 6th June
Rev. Robert Morris will lead our service in church and on Zoom at 10.00am this Sunday

All Welcome - use link below
Topic: 10.00am Hazelwell Sunday Worship
Join Zoom Meeting
https://us02web.zoom.us/j/5429440666?pwd=ZWdld05LeTU3bjFVdkZZNkR3ZExhQT09
Meeting ID: 542 944 0666
Passcode: 9cUGo6
Many thanks to all those who responded to the St Vincent Volcano appeal which raised £130
Foodbank – B30 foodbank
Last week we received in donations 1459kgs and gave out 1762k, 1260k to 94 clients on 54 vouchers, nd 552k to other foodbanks or similar. In MAY we received in in donations 6466k and gave out 6919k, 5771k to 464 clients on 238 vouchers 1148k to other foodbanks or similar
Urgently needed
Instant coffee ( not decaffeinated), tinned fish (preferably other than tuna), long-life fruit juice, packet/pot noodles, gender neutral shampoo, roll-on deodorant and disposable razors,

Low in stock
Tinned meat (ham, corned beef, pork sandwich meat, pulled pork or chicken), ready-made custard (tinned or carton - not powder), sugar 500g (not larger), potato smash, pasta sauces, tinned tomatoes, tinned rice pudding, jam/honey, tinned fruit in juice (not prunes or grapefruit), snack bars, chocolate, crisps, liquid or bar soap, washing up liquid (not family sized bottles), laundry liquid/powder (not family sized), toothpaste, single or duo wrapped toothbrushes, toilet rolls.
Well stocked

UHT milks, squash, instant hot chocolate (not cocoa powder), baked beans, pasta shapes, dry spaghetti, tinned macaroni cheese, tinned spaghetti, rice, tinned potatoes, tinned vegetables, tinned tuna, teabags (40's or 80's), biscuits, nappies all sizes, porridge, cereal, pet food, baby food and baby care items, gender neutral shower gel, sanitary pads, carrier bags
Not needed at all

Decaffeinated drinks or fruit infusions, bottled water, large bottles of lemonade or coke, any foods or toiletries containing alcohol, cooking ingredients or sauces, fresh products including vegetables, eggs and bread, non-dairy items, gluten-free items, coffee beans, loose tea, large boxes of teabags (120's or more), very large bags or boxes of cereal or porridge, cocoa powder, tampons, make-up, hair accessories, perfume or after-shave.
REFLECTION The Revd. Gussie Walsh
I wonder how you are coping being in partial lockdown still. • Has your faith been challenged over those weeks? • How much do you trust God in all parts of your life? Your health, your job, your finances, family or relationships. • And what about the future? • Does the knowledge that there is an eternal place already secured for you through Jesus' death and resurrection – fill you with confidence and give you a different perspective of whatever life throws at you or does it just sound like a lot of hogwash? On August 5th 2010, 33 South American Chilean miners were buried 330 metres below the earth's surface. They were rationed to 2 tablespoons of tuna and a sip of milk every 48 hours, and light from their torches was limited as well. The temperature built up in excess of 92F, and although there was emergency water in the bunker, it was finite. So they waited in the dark unsure of their future - of not just facing death but also the prospect of never being able to say good bye to their family… I wonder if you had been one of them what your faith in God would have been like down there – would you have trusted him, even as you would in all probability have to watch your colleagues die, knowing you could be next? One miner, Jose Henrique, did trust God and it was his faith that brought hope to others. For as he talked to them about the God he knew – bringing his knowledge and past experiences of Jesus into the bleakness and darkness of their situation – as he led them in prayer, read the bible, sang and worshipped with them - something happened. The hope-less miners began by reflecting on their lives and then acknowledging that God, through the presence of the Holy Spirit was with them. Later one wrote in a letter sent to the surface: 'while the world may report there are 33 of us down here – we can testify to the truth that there are in fact 34 – for God has never left us.' It appears that while the physical situation did not change, there was a deep sense of peace: God's peace as promised in Philippians 4, which exceeded anything that they could logically understand. Here are 5 points that we can learn from how Jose and his companions' faith and character grew in their lockdown. 1. Jose looked for God in the situation, 2. he shared his faith- first through what he could remember ( past life experiences and bible passages ) and then when they all received bibles, through studying God's word together, 3. they prayed and told God their needs, 4. they worshipped and sang hymns together - ALL THIS irrespective of their physical outcome. And then, when they eventually were rescued, they not only rejoiced but also witnessed to the world about their experience and gave God the glory. So back to the questions at the beginning: • during this pandemic has your faith grown? • are you in need of trusting God more in the current situation you are in and for your future? The truth is, however you may be feeling, you are not alone. Like the miners there is always another in the situation with you and like them, this may be an opportunity for your faith to grow and discover more of the gift of God's love through Jesus Christ. HOW? - why not take some of the pointers of how they learnt to grow down a mine in Chile. 'Paul writes later: 'For nothing in all creation will ever be able to separate us from the love of God that is revealed in Christ Jesus our Lord.' How special is that!