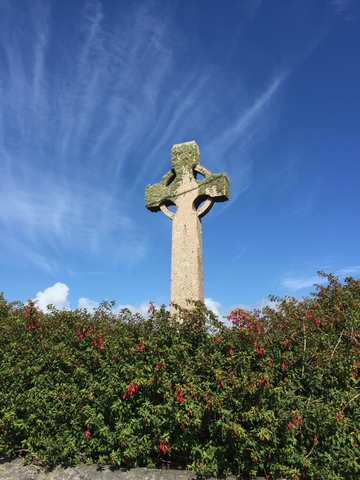 Hazelwell Weekly Contact
27th June 2021
Dave Darcy will lead Hazelwell morning worship
In Church (and on Zoom) at 10.00am
(See Order Of Service attached)
Prayers are requested for
Moira, who continues to suffer ongoing health problems and also Nick and Alex
All those in hospital still unable to receive visitors
Parish Update
Please look out for a consent form giving your permission for us to Zoom services to those not in church. This video footage is not public or recorded but your consent is required since you may be included on camera at some point during the service. (The back row is always a "film free zone"). This relates to data protection and is required by the diocese. This form is attached and you may choose to print it out and complete it to hand in when you are next in church.
Sunday 27th June
Dave Darcywill lead our service in church and on Zoom at 10.00am this Sunday
All Welcome - use link below
Topic: 10.00am Hazelwell Sunday Worship
Join Zoom Meeting
https://us02web.zoom.us/j/5429440666?pwd=ZWdld05LeTU3bjFVdkZZNkR3ZExhQT09
Meeting ID: 542 944 0666
Passcode: 9cUGo6
Foodbank – B30 foodbank
Last week we received in donations 1075K and gave out 1345k 1245k to 90 clients on 50 vouchers 100k to other foodbanks or similar
urgently neededInstant coffee ( not decaffeinated), tinned fish (preferably other than tuna), long-life fruit juice, packet/pot noodles, gender neutral shampoo, roll-on deodorant and disposable razors,
Low in stock
Tinned meat (ham, corned beef, pork sandwich meat, pulled pork or chicken), ready-made custard (tinned or carton - not powder), sugar 500g (not larger), potato smash, pasta sauces, tinned tomatoes, tinned rice pudding, jam/honey, tinned fruit in juice (not prunes or grapefruit), snack bars, chocolate, crisps, liquid or bar soap, washing up liquid (not family sized bottles), laundry liquid/powder (not family sized), toothpaste, single or duo wrapped toothbrushes, toilet rolls.
Well stocked
UHT milks, squash, instant hot chocolate (not cocoa powder), baked beans, pasta shapes, dry spaghetti, tinned macaroni cheese, tinned spaghetti, rice, tinned potatoes, tinned vegetables, tinned tuna, teabags (40's or 80's), biscuits, nappies all sizes, porridge, cereal, pet food, baby food and baby care items, gender neutral shower gel, sanitary pads, carrier bags
Not needed at allDecaffeinated drinks or fruit infusions, bottled water, large bottles of lemonade or coke, any foods or toiletries containing alcohol, cooking ingredients or sauces, fresh products including vegetables, eggs and bread, non-dairy items, gluten-free items, coffee beans, loose tea, large boxes of teabags (120's or more), very large bags or boxes of cereal or porridge, cocoa powder, tampons, make-up, hair accessories, perfume or after-shave.
Reflection: the daughter of Jairus
The first thing we notice when reading this text is its general theme; Jesus heals people who are sick. Both the woman suffering from haemorrhages and the daughter of Jairus are seemingly beyond the ken of practical medicine, beyond the means of their family, friends and neighbours to help them. Something else that the two interconnected events share is the fact that the people involved have a strong faith. The woman is certain that touching Jesus' cloak will cure here, while Jairus equally expresses a certainty. There is no question, no "If you are able to…". No, they are certain that Jesus will heal the sick. Faith is a first step towards being healed.
In contrast to the conviction of the woman and Jairus is the attitude of the bystanders. These include the disciples. First, when Jesus asks, who touched him, they somewhat laughingly point out that he's in the middle of a crowd of people. Who didn't touch him? Later, at the house of Jairus, when Jesus claims that the little girl is not dead but merely asleep, they even ridicule him. Jesus seems to be operating on a different plane, just like the faith of the woman and Jairus is above the attitude of the people. From the faith of others, he knows that the outcome can't be anything else than what it will turn out to be. He says so twice. "'My daughter, your faith has restored you to health", and "Do not be afraid; only have faith." Again, faith leads to healing.
But, as always, there is a catch. If faith alone were enough, the woman and the child would not need Jesus to come to them. Their faith would have healed them regardless. But, today just as much as then, faith needs to have a direction. Our faith is faith in God the Father, the Son and the Holy Spirit. It's very concrete. Simply having faith is not enough. No, we must have faith that the Lord is willing to come and help us, but we need to open ourselves to his help. God does not force himself upon us. He has the deepest respect for our own personal integrity and our ability to make the right choices. With an informed conscience, we can make those choices. God has done all the work, he has prepared the way. What we need to do now, is to take up the tools he provides and start on his way to healing.