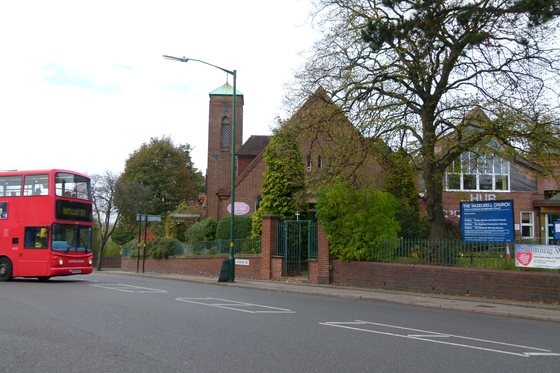 Hazelwell Weekly Contact
1st August 2021
Hazelwell Morning Worship
In Church (and on Zoom) at 10.00am
Led by David Taylor
Prayers are requested for
Moira, for improved health and strength to face the future.
All in Afghanistan suffering at the hands of the Taliban as the advance through the country.
All who are participating in the Olympic Games in Tokyo
Parish Update
We are, once more able to sing hymns in church and this week will welcome Derek Grinter back to accompany our singing.
In accordance with diocesan advice we respectfully ask members of the congregation to continue to wear masks in church.
From this month forward communion services on the third Sunday of each month will no longer be relayed on Zoom. (There will be no Zoom transmission on :
Aug 22nd, Sept 19th and October 17th).
This week
Sunday 1st August
David Taylor will lead our service in church and on Zoom at 10.00am this Sunday
All Welcome - use link below
Topic: 10.00am Hazelwell Sunday Worship

Join Zoom Meeting

https://us02web.zoom.us/j/5429440666?pwd=ZWdld05LeTU3bjFVdkZZNkR3ZExhQT09
Meeting ID: 542 944 0666

Passcode: 9cUGo6
Foodbank – B30 foodbank (Update 25th July 2021)
B30 Foodbank Warehouse has got some supplies of bread flour (mostly strong white flour), bread machine mixes and also a small amount of dried yeast. We cannot give it to clients, as many lack the utensils, etc to make it at home (and the oven fuel to cook it). If anyone would like to exchange flour/yeast for something on our urgent list, you would be most welcome.
Clients needing emergency food are referred to B30Foodbank by E-Voucher through a referral agent OR call CITIZENS ADVICE 08082082138 Or call BIRMINGHAM CITY COUNCIL on 0121 216 3030 Or call The Project on 0121 453 0606 Whats App 07974 106813
Distribution of food Clients or their representatives will need to collect the parcels from B30Foodbank, Quaker Friends Meeting House 23aWatford Road B30 1JB on Tuesday and Friday between 1.30 and 3.30pm.urgently neededInstant coffee (not decaffeinated), tinned fish (not tuna, sugar 500g (not larger), chocolate and snack bars, potato smash, gender neutral shampoo, roll-on deodorant, Disposable razors, strong carrier bags. Toilet Rolls
Low in stock
Tinned meat (ham, corned beef, pork sandwich meat, pulled pork or chicken), ready-made custard (tinned or carton - not powder), packet/pot noodles, pasta sauces, tinned tomatoes, tinned rice pudding, jam/honey, long life fruit juice; tinned fruit in juice (not prunes or grapefruit), crisps, washing up liquid (not family sized bottles), laundry liquid/powder (not family sized), toilet rolls.
Well stocked
UHT milks, squash, instant hot chocolate (not cocoa powder), baked beans, pasta shapes, dry spaghetti, tinned macaroni cheese, tinned spaghetti, tinned/packet sou, rice, tinned potatoes, tinned vegetables, tinned tuna, teabags (40's or 80's), biscuits, nappies all sizes, porridge, cereal, pet food, baby food and baby care items, gender neutral shower gel, sanitary pads, liquid or bar soap, toothpaste, single or duo wrapped toothbrushes
Not needed at allDecaffeinated drinks or fruit infusions, bottled water, large bottles of lemonade or coke, any foods or toiletries containing alcohol, cooking ingredients or sauces, fresh products including vegetables, meat, eggs and bread, non-dairy items, gluten-free items, coffee beans, loose tea, large boxes of teabags (120's or more), very large bags or boxes of cereal or porridge, cocoa powder, tampons, make-up, hair accessories, perfume or after-shave.
Rick Morley a reflection on John 6:24-35
The following is a reflection on John 6:24-35, the Gospel lesson appointed for Proper 13B, according to the Revised Common Lectionary.

So…I think to fully understand the "I am the bread of life" text, we need to go back a few chapters in John. In chapter four, Jesus is talking to the woman at the well. Jesus offers her water, she marvels at his lack of a bucket with which to draw water, and he then says (in effect) that he's not talking about the water in the well. If she drank that water, she'd just get thirsty again. But whoever drinks of the water that I will give him will never be thirsty again. The water that I will give him will become in him a spring of water welling up to eternal life. Then comes the best part. Probably a little flummoxed, the woman responds: Sir, give me this water. It's clear that the woman thinks that he's just going to grab a bucket and find this nifty well…so that she "will not be thirsty or have to come here to draw water." But, to the reader, we know that the water Jesus is talking about can't be drawn from any well on earth. It's a gift from above, a gift from God.

Now, fast forward two chapters. Jesus had just fed a whole lot of people on top of a mountain, with just a few fish and some loaves of bread. Needless to say, these people were impressed. They follow him as he travels around, and he tells them point-blank that the only reason they're tagging along is because they ate their fill. They know where their bread is buttered. (Or something like that.)

He tells them that they shouldn't worry about that bread—the bread from the mountaintop—because that bread will get mouldy and rot away. But, they are to labour for the bread that doesn't perish.

The people get all theological on Jesus and remind him of the manna in the wilderness that Moses gave them—the bread from heaven. Jesus corrects them. That wasn't Moses. Moses couldn't do anything like that on his own. That was God's bread. Jesus goes on:

My father gives you the true bread from heaven. For the bread of God is he who comes down from heaven and gives life to the world. Then comes the best part. Probably a little flummoxed, they respond: Sir, give us this bread always.

It's clear that the crowd is still thinking about a loaf of bread. Maybe Challah. Maybe Wonder. Maybe Pepperidge Farm Cinnamon Swirl. (My fav.) Who knows? But, to us, the readers, who know this passage so well, we know that this is not the case.

Because Jesus explicitly tells us that he is the bread of life.

I think there is something to the similarity of these two texts from John. John's Gospel was written nearly seventy years after the death and resurrection of Jesus—a time when baptism and Eucharist had been fully established in the spiritual lives of Christians. These two passages talk of ordinary everyday items like bread and water, and yet they point people to realities that are far beyond the ordinary. Big things are going on, even if you can't always see them. God can give water and bread that can be the very seeds of eternal life. God can cause wells to spring up, gushing into eternity. Simple things can be signs of things too great to even fully understand.

Lord—we ask you please give us this bread. - Always. Because it's from God. Because it will never perish, even though it may die. Because, Jesus is this bread. The Bread of Life.