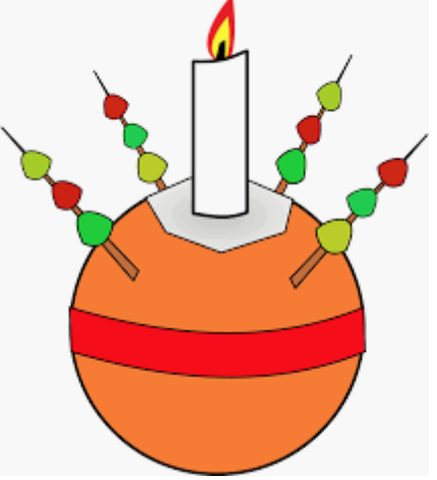 Hazelwell Weekly Contact
5th Decemberer 2021
Hazelwell Christingle and Parade Service
In Church at 10.00am (and on Zoom)
Led by Val Harris
Prayers are requested for
All children who live with the constant threat of physical abuse or neglect
Those whose situation in their own country cause them to feel so desperate that they are prepared to risk drowning to leave.
Parish Update
Advent and Christmas at Hazelwell.
Val Harris will lead this week's Christingle and parade service (there will be a collection to be split between The Children's Society & Church Funds)
December 19th 3.30pm Carol Service followed by tea and cakes All Welcome
Christmas Morning 10.00am communion led by Area Dean Phelim O'Hare
Christmas Post- anyone wishing to give Christmas cards to others in the congregation can bring them to the "sorting office" which will be set up in church from Next Sunday ("do-it -yourself post collection" during the following 3 weeks).
B30 Foodbank (updated 28th November)
WE gave out 1991kg feeding 170 people on 74 vouchers
Urgent needsChristmas Donations Urgently Needed before 3rd December please!Tinned ham, tinned salmon, tinned peas, tinned carrots, tinned potatoes, ready made tinned or packet custard for Christmas food parcels

Christmas items NOT needed as we are well stocked mince pies, Christmas puddings, Chocolate and selection boxes
Urgently needed
Sugar 500g (not larger), potato smash, jam/honey, porridge, UHT whole milk, long-life fruit juice, tinned tomatoes, liquid or bar soap, gender neutral roll-on/stick deodorant gender neutral shampoo, disposable razors, strong carrier bags, toilet rolls, washing up liquid (not bigger than 500ml),single or duo wrapped toothbrushes
Low in stock
cereal (not greater than 500g, UHT semi-skinned milk, tinned rice pudding , noodles pack/pot, teabags (40's or 80's. instant coffee (not decaffeinated), rice, tinned potatoes, crisps, ready-made custard (tinned or carton - not powder) laundry power/liquid (not family sized), squash, baby wipes, chocolate and snack bars, tinned/packet vegetarian meal
Well stocked Tinned fish, pasta sauce, tinned meat (ham, corned beef, pork sandwich, pulled pork, pulled chicken, tinned fruit in juice (not prunes or grapefruit), instant hot chocolate (not cocoa powder), baked beans, pasta shapes, dry spaghetti, tinned macaroni cheese, tinned spaghetti, tinned/packet soup, tinned vegetable, biscuits, nappies all sizes, pet food, baby food and baby care items, gender neutral shower gel, sanitary pads, toothpaste

Not needed at all
decaffeinated drinks or fruit infusions, bottled water, large bottles of lemonade or coke, any food or toiletries containing alcohol, cooking ingredient or sauces, fresh products (including vegetable, meat, eggs and bread), non-dairy items, gluten-free items, coffee beans, loose tea, large boxes of teabags (120's or more), very large bags or boxes of porridge and cereal, cocoa power, tampons, make up hair accessories, perfume.
Thoughts on being a light in the world
We are told to let our light shine, and if it does, we won't need to tell anybody it does. Lighthouses don't fire cannons to call attention to their shining- they just shine.- Dwight L. Moody
You are the light of the world. A town built on a hill cannot be hidden. Neither do people light a lamp and put it under a bowl. Instead they put it on its stand, and it gives light to everyone in the house. In the same way, let your light shine before others, that they may see your good deeds and glorify your Father in heaven.- Matthew 5:13-16