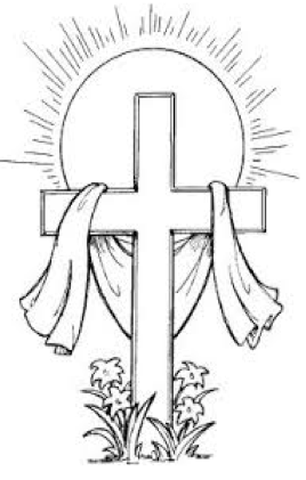 Hazelwell Weekly Contact
Easter Sunday 17th April 2022
Hazelwell Easter Communion
In Church at 10.00am (and on Zoom)
Led by Rev. Donald Sampson
Please continue to pray for the people of Ukraine and for a resolution to the conflict in their country
Pray too for those who are now starting to rebuild their lives in a foreign country.
Also please pray for
Audrey Rickards who has been admitted to hospital
All in this country who find themselves dependent on foodbanks
All those world-wide working to find solutions to the energy crisis
Parish Update
Canon Janet Chapman at Northfield has kindly put the KNMS (Deanery) newsletter online for us. The link is here:https://bit.ly/KNMSMarch2022-2
As the new (financial) year begins this may be a good time to review your giving to the church. If a pack of envelopes labelled with the date each week would be helpful, enabling you to put aside collection each week to bring to church when you attend, - then please ask Mary for a pack.
Join us This week in church or on Zoom (see link below)
Donald Sampson will lead our service in church and on Zoom at 10.00am this Sunday
All Welcome - use link below
Topic: 10.00am Hazelwell Sunday Worship
Join Zoom Meeting
https://us02web.zoom.us/j/5429440666?pwd=ZWdld05LeTU3bjFVdkZZNkR3ZExhQT09
Meeting ID: 542 944 0666
Passcode: 9cUGo6
Easter Services:-
The following invitation was sent by Roy Haseldon on behalf of St Bedes Brandwood
I am pleased to invite you and your congregation to an Easter Vigil at St Bede's Church (Bryndale Avenue) starting at 8pm on Saturday 16th April. It will be led by our Area Dean, Phelim O'Hare.
We will light a fire in the garden, and celebrate in the church as well.
Please ask anyone attending to bring a mask, as we are still socially distancing and wearing masks whilst in the building
Friday 15th April at10.30am
New Life Baptist Church, King's Heath High Street Good Friday ecumenical service followed by the Walk of Witness
Friday 15th April at 1 - 3pm
All Saint's Church, King's Heath High Street Vigil at the Cross
Saturday 16th April at 8pm St Bede's Church, Bryndale Avenue, Brandwood
Easter Vigil
Our Hazelwell Easter Morning communion service will be led at 10.00am by Revd. Donald Sampson
May 15thA Date for your Diary
The date for the APCM and also Christian Aid meal
Barbara Calvert will be with us to lead our Christian Aid service on May 15th
B30 Foodbank (updated 10th April)
We need urgently please
Instant coffee, tinned spaghetti,
Tinned potatoes, Tinned rice pudding
Urgently needed
Tinned potatoes, rice, instant coffee (not decaffeinated), sugar 500g (not larger), tinned spaghetti, cereal (not greater than 500g), porridge (not greater than 500g), gender neutral shampoo, toothpaste, toilet rolls, strong carrier bags.
Low in stock
Tinned fruit in juice (not prunes or grapefruit), squash, long-life fruit juice, UHT semi-skimmed milk, dog/cat food, instant hot-chocolate (not cocoa powder)
UHT whole milk, crisps, tinned rice pudding, teabags (40's or 80's), jam/honey, ready-made custard (tinned or carton - not powder), chocolate and snack bars, liquid/bar soap, laundry power/liquid (not family sized), gender neutral shower-gel
Well stocked
Pasta shapes, dry spaghetti, baked beans, tinned/packet vegetarian meals, tinned tomatoes, tinned fish, pasta sauce, tinned meat (ham, corned beef, pork sandwich, pulled pork, chicken), tinned/packet soup, tinned vegetables, biscuits, noodles, instant potato, nappies all sizes, baby food and baby care items, gender neutral roll-on deodorants, sanitary pads, baby wipes, washing-up liquid, single or duo wrapped toothbrushes
Not needed at all
Decaffeinated drinks or fruit infusions, bottled water, large bottles of lemonade or coke, any food or toiletries containing alcohol, cooking ingredient or sauces, tinned macaroni cheese, fresh products (including vegetable, meat, eggs and bread),non-dairy items, gluten-free items, coffee beans, loose tea, large boxes of teabags (120's or more), very large bags or boxes of porridge and cereal, cocoa power, tampons, make up hair accessories, perfume or aftershave, Christmas items.
Reflection
I grew up in a house where Easter could be a bit problematic. There were Easter eggs of course, but we were not churchgoers and I did not think to interrogate what lay behind the day or the egg. Then, in my teens, I started going to church and things got more complicated. My mother, as a young woman, had been devout. As she came to terms with my faith, she talked a little about hers. I learnt that, when her own mother died, before I was born and after a painful battle with cancer, my mother had lost her faith. My mother had seen her mother die. She knew her to be dead. She and I began a conversation about resurrection that loomed up each Easter and on other occasions too. My mother never could accept, that, in any sense her mother now lived.
My mother herself has died, and we found no resolution of her difficulty. As Easter dawns, I think of her again. I realise I did not tell her what she most needed to hear. I did not tell her that she was right. Death deals us a grievous blow. In the midst of the terrible crisis surrounding us now, so many families and friends are measuring their loss, feeling that devastating pain. Another Easter does not make it all better.
At Easter, Christians can sound as though they are telling us that Jesus died, but came back to life. It is the ultimate happy ending. Death is annulled, no longer a thing to be considered. It is just not true. In scripture, death is always a challenge; it is, Paul tells us, 'the last enemy'. Christ's resurrection does not annul death, or end our grief; the dead are still dead. We cannot set the truth aside in order to grasp at something easier to digest. To make sense of our lives and the world we need a history that does not play tricks on us.
In view of the situation in Ukraine and following the crisis prompted by the coronavirus, more and more people are beginning to ask 'What difference will this make?' We wonder if we will learn lessons about the environment as we see air quality improve, or animals and plants reclaiming habitat. We wonder if our priorities will shift, our admiration of the NHS become more deeply embedded, our ability to identify and care for the vulnerable improve. We do not want to set this story aside as though it was an unfortunate intrusion into the real business of living. We want this to be the story. We want to remember those who died, remember those who rescued us, remember those who cared. We want to make new judgements now about who we are and what we can do. We want to learn.
Easter does not set aside our past. The resurrection is not the magnificent last pitch of a fervent faith. It is not the pinnacle for real believers who knew that God never meant us to get hurt and just wants us to live happily ever after. The Resurrection is not even the last event, the last fact in the Good Friday Story. On Good Friday we see what happens when Herod, Caiaphas, Pilate or a crowd pass judgement. We see death, a real death. At Easter we see what happens when God passes judgement. Death is still death, but now there is a longer story to be told; the beginning and ending of which is not in our grasp. There is yet more to say and after defeat, there can be victory. The story is still true, it is just not over yet.
To that longer story, to that mystery, we commit ourselves when we say 'Christ is Risen'. We do that more in hope than certainty. We do it knowing the truth of loss but accepting we have much to learn. To that mystery, that longer story, I commit myself and my mother. Happy Easter.