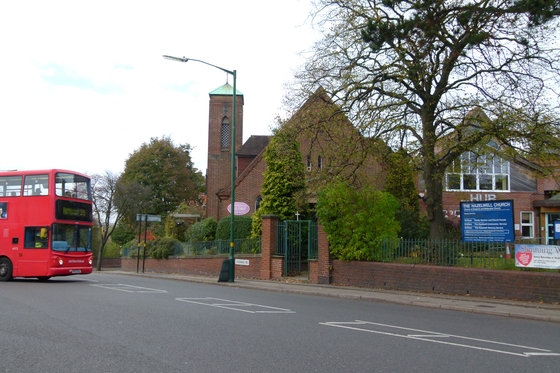 Sunday 11thMarch 2018
Mothering Sunday
Hazelwell All Age & Parade Service
Led by Rev. Moira Forbes
Mothers can forgive anything. Tell me all and be sure that I will never let you go, though the whole world should turn from you. Louisa May Alcott
Hymns: - Singing The Faith
94 To God be the glory61 Our God is a great big God
(offering hymn)

351 In Christ AloneMothers can forgive anything. Tell me all and be sure
that I will never let you go, though the whole world
should turn from you. Louisa May Alcott
Please Pray for
: Cartland Road & Vicarage Close
: Members of the JCC
: All those who have behaved as a mother to those
in need.
: The Growth Of Our church
b30Food Bank
In the week ending 2nd March 2018 we received 780kgs of food, and gave out 1282kgs of food, feeding 151 people, 92 adults & 59 children on 71 vouchers. We are running short of long life milk (both whole and semi skimmed), cooking rice, tinned spaghetti, macaroni cheese, hot chocolate, sugar (500g):,cereal, tinned tomatoes & jam.
APCM (18th March 2018) NEXT SUNDAY
All members of the church are encouraged to attend the Annual Church Meeting following a light breakfast, which will be served at 8.30am on Sunday 18th March. This will precede our 10.00am morning service.
Easter Services
Palm SundayHazelwell Communion 10am. March 25
Maundy Thursday See Below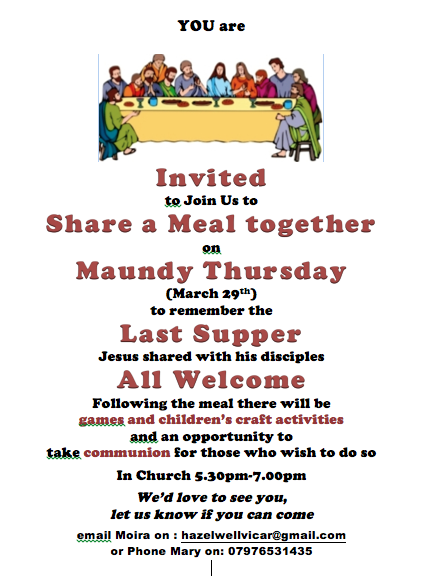 Good Friday Service of readings and meditation
2.00-3.00pmFriday 30th March
Easter Sunday Hazelwell Communion Easter celebration
Kings Heath Council of Churches walk
It was suggested at the last Churches Together meeting we had a parish walk. Please see poster at the back of church
A 4 mile walk is planned which will visit most of the churches in our group. It will take about 2 hours.
We will link it to the idea of walking to remember those forced to walk as refugees—"Share the Walk". So at each church stop we will pray and reflect on those having to walk.
Next Sunday
Sunday 18th March
10.00am
Hazelwell Communion
Led by
Rev. Elaine Russell
And Finally
Your greatest contribution to the kingdom of God may not be something you do but someone you raise.
Andy Stanley