Sunday 14th April 2019
Palm Sunday
Hazelwell Communion Service
Led by Rev Elaine Russell
Readings Isaiah 50 4-9a
Luke 19 28-40
Hymns Singing The Faith
262 All glory, laud and honour
265 Ride on, ride on in majesty
425 God of forgiveness
585 God whose love is all around us
487 You shall go out with joy
Please Pray for
: Residents of Stavely Road & Hough Road
: Church Warden and Stewards
; All who have been recently bereaved
: The Growth Of Our church
b30 Food-bank
In the week ending April 7th 2019we fed 281 people 163 adults 118 children on 130 vouchers. We used 2197 kgs of food and received in 1184 kgs.
Urgently Required: Rice, Cereals, Tinned Fruit, Fruit Juice, UHT Whole Milk, custard, rice pudding and jam.
Currently Well Stocked: Baked Beans, Pasta, Tea, Noodles, Vegetables, Dry Spaghetti.
.
Friendly Forum
There will be no meeting of Friendly Forum tomorrow, Monday.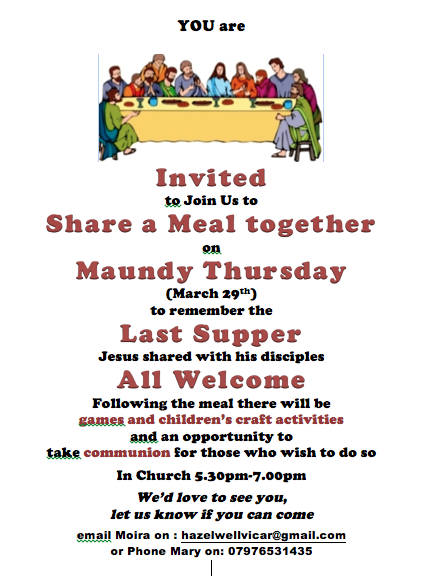 Next Week
Easter Sunday
Hazelwell Communion
Led by Rev. Moira Forbes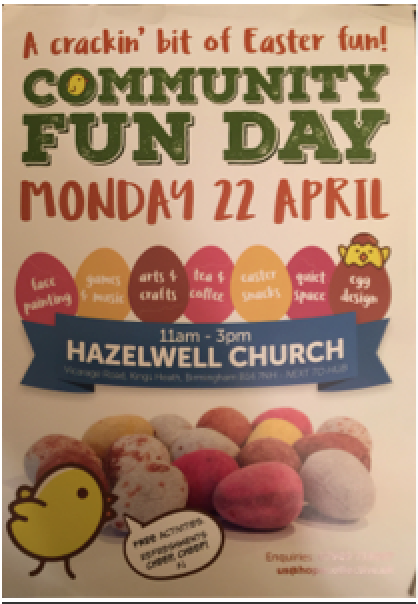 Enquiries: 07909 713007 or us@hopecollective.uk.